About Cauldron VTT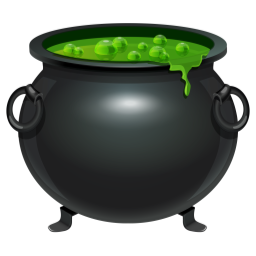 Cauldron VTT (virtual tabletop) is a free and open source virtual tabletop tool to play role playing games online. Of course there is more to tell about Cauldron than just that. So, this page give you a bit more insight in what it is and what it has to offer.
The development of Cauldron
Why did I create Cauldron? The pandemic forced my friends and me to play our Dungeons & Dragons sessions online for a while. We used Roll20 for that, but in my experience Roll20 is a bit slow, specially to get it started, and its interface is a bit clumsy here and there. As I was already looking for a new hobby project due to the staying-home, I saw a nice challenge in building my own virtual tabletop.
When I started working on Cauldron, my plan was to only release it as a free and open source project, for people to download and host themselves. I soon realized that that would not give me many users, because not many people have the right knowledge and their own server to host such tool. Offering this VTT as a service running at my own server solves all that, but many users uploading lots of large map images can become a problem, cause my server is just a small VPS. Nevertheless, I decided to give it a try and placed Cauldron online for everybody to try.
Although I've realized that not many people want or are able to host such a tool themselves, I've made Cauldron open source nevertheless. It's available at my Gitlab page.
Lightweight
One of the main reasons I created Cauldron VTT is because I wanted a lightweight VTT. I wanted a VTT that offers the table top of a real role playing game, but just in a digital form. That's why Cauldron offers what you would normally have at a real table and not much more. For example, at a real table you will probably use a character sheet on paper or in an app on a tablet. When using Cauldron, I assume you will still do that, so I did not implement a character sheet replacement. I don't want a VTT that draws too much attention to the VTT itself and not to the story as being told by the Dungeon Master. Offering a lot of features also requires a lot of time to actually use those features. Making a campaign and building maps in Cauldron is easy. By keeping Cauldron simple and lightweight, the experience it offers is still fantasy role playing and not a computer game.
Fog of war is something you don't have at a real table, but that was simply too cool not to have. ;)
Rule systems
There are a lot of role playing game systems. I think Dungeons & Dragons is one of the more well known systems. It's the system that I play, so that's of course the system I implemented in Cauldron. However, during development of Cauldron, I also started playing Cyberpunk Red. I have no intention to implement a lot of other rule systems, but I'm trying to keep Cauldron useful for other rule systems. Therefore, I kept the support for Dungeons & Dragons 5E to a bare minimum. You can simply do manual in-game dice rolling for other rule systems.
I hope you like what I've made. You can take a look at the screenshots to get an impression of what Cauldron has to offer. If you want to try it yourself, use one of the available demo accounts and take control of one of the characters in the demo game. When you log in, an online manual is available to get you started. Have fun!
Hugo Leisink